Beauty /
ANOKHI TODAY Special Report: Pantene Global Brand Ambassador Priyanka Chopra's Beauty Secrets
ANOKHI TODAY Special Report: Pantene Global Brand Ambassador Priyanka Chopra's Beauty Secrets
Beauty Feb 13, 2018
Actress, philanthropist, producer and pioneer are just some of the choice words to describe Pantene Global Brand Ambassador  Priyanka Chopra. She was in Toronto to kick off the Toronto International Film Festival, where she was the guest of honour at the TIFF Soirée, an annual fundraiser whose proceeds support the #ShareHerJourney campaign for women in front of and behind the camera.
Discover Pantene Global Brand Ambassador Priyanka Chopra's beauty secrets in our one-on-one chat. She dishes on her favourite Pantene products, working with the renowned brand and maintaining that enviable hair.
Marriska Fernandes: You're now the Global Brand Ambassador for Pantene. How is partnering with Pantene a great brand fit?
Priyanka Chopra: Actually, it's one of the most perfect brand fits for me on many levels. Pantene was one of the first few cool haircare products that I discovered when I was very, very young. It wasn't in India. I can't remember if it wasn't in India or was not frequently used in India. But I wasn't aware of it.
I remember my aunt's husband used to work in the merchant navy. It was when I was eight or nine. And I remember he used to get all these cool things from America, and Pantene used to be one of them, and they used to always come to my house. I used to be so excited by it. It's so funny. It came to a full circle with me being an ambassador.
But besides that, I love what Pantene stands for. They say "Strong is Beautiful" because strong as a word is associated so much. First of all, with men, second of all, when a woman is strong, people think you can't be feminine and you can't be as vulnerable if you're strong. But that's not what it means. That's why I love the word. Strong is not tough. Strong is not angry. Strong is beautiful. And that's what I stand for, truly. So it's a perfect brand fit.
MF: You have such gorgeous, enviable hair! What's your secret to such gorgeous locks?
PC: You know, you really have to find the right product. My hair was crazy, not controllable when I was growing up. It really used to make me feel a lack of confidence. My hair really makes me feel confident. If I have a good hair day, I feel better about myself. If I'm having a bad hair day, I always feel insecure. I think that happens with all of us girls.
So it took me a really long time to figure out what my hair needs — which is conditioning — and it wouldn't work with just a shampoo. I do oil massages twice a month at least. I think scalp massages are really important, and finding the right shampoo and conditioner.
MF: Deep conditioning is really essential for damaged hair. What has your experience been using the 3 Minute Miracle Moisture?
PC: I've been using it for months now. It's one of my favourite Pantene products, besides the Smooth and Sleek shampoo, which is also awesome. I used to think this was a special conditioner mask, which you use twice a week when you need extra hydration, but it's actually a daily conditioner for thick, dry, frizzy hair — hair that you want to control — and you will immediately see results. You towel-dry your hair, and you will be able to put your hand through it completely without the hair falling.
That's what's amazing about this product. It makes unruly hair controllable. There's six different kinds. Be it curly, colour or dried, you can pick what works for you and you can use it in lieu of a conditioner. But if you have fine, thin hair, you should use a conditioner.
MF: As you can see, I definitely have frizzy, unmanageable hair.
PC: It would really work for you because you have thick, curly hair. It made my hair so manageable without a blow-dry. Try it! I'm not kidding. It will make your curls fall really, really well.
MF: I will, definitely. Strong is Beautiful is the campaign. Who are some strong, empowering women that you look up to?
PC: My mum is definitely one of them. I know the world probably doesn't know her, but she is a complete overachiever. She is a double MD, OB/GYN and an ENT, a licensed pilot, speaks six languages. She runs two companies right now — my production company and her own clinic. She's just someone who stands for so much. More than anything, she stands for grace under fire, which is what I love. And I think women, in general, have the ability to be stoic under fire and be graceful and handle that. She is just such an epitome of that for me.

MF: What's a beauty product or treatment you swear by?
PC: Besides this, right?
MF: Yes, besides this.
PC: It's an Indian grandmom's thing which I use for my skin. It's called uptan. The things you mix in is turmeric (a little bit because you don't want your skin to become yellow), gram flour, milk or yogurt and a bit of sandalwood or lavender for scent. You put it on your skin and let it dry and then just scrub it off. It's a natural exfoliant, and your skin is super glowy.
MF: So that's the secret for your beautiful skin!
PC: Yeah. It hydrates too because there's milk in it. Cleopatra bathed in milk, so why not us? (Laughs)
MF: What's the craziest thing you've done in the name of beauty?
PC: I've never really done too many crazy things because I really believe in the natural for my skin and hair. I may have, on an impulse, cut my hair and was really upset about it. I went in for a pedicure and came out with a bob. And I cried and cried for almost two weeks, "I cut my hair!" I felt terrible. I was wearing hats. But then I got over it and figured out how to style it. I believe in enhancing what you already have, which we have amazing products to be able to do that. But — I remember it was on trend when I just started movies, maybe late '90s or early 2000s — my eyebrows were super thin.

MF: Who is your style icon?
PC: I loved Audrey Hepburn. I thought she was so classic. Graceful. I love Maharani Gayatri Devi. I think I like grace and classic [personalities], but at the same time I like Rihanna, so (laughs) I love rebellious, too. I think basically women who stand for whatever they are or people who stand for what they feel and don't try too hard.
MF: When you won Miss World, you were asked, "Who is the living woman you admire the most?" How would you answer that question now? Why?
PC: Michelle Obama. She's smart. She stands on her own. She's compassionate, considerate and everything a woman should be. I really admire her.
MF: One thing I have always learned from you is that hard work and perseverance are key. What keeps you going since you're always working?
PC: It's simple logic, according to me. Yeah, you have bad days. I'm not like superwoman. I have days where it's hard to get out of bed, where I overthink things, or you're not feeling your best. It's simple math. Like in school, for example, if you get an A in every test as your semester goes along, at the end of it you're going to have an A. So, if you treat every day like that and say, "I'm going to ace today," not think about life or your long-term big plan or whatever is heading your direction. Just today. If you make sure today is aced, then overall, collectively, life will be great. I just think that.
MF: You were the guest of honour at the TIFF soirée. Can you tell us a bit about the Share Her Journey campaign?
PC: That's so important. I think TIFF is doing such a great job by setting up the Share Her Journey campaign because it allows female filmmakers in cinema to showcase their work, considering you've only just one female director who has ever won an Academy Award. Sofia Coppola was the second female to win Best Director at Cannes in the history of cinema. We just had Wonder Woman, which was directed by a woman, in 2017. So the conversation and the opportunities are so few and far between that initiatives like this are so important — that a festival actually took up giving women that kind of platform. It will make for such a big change.
MF: From Bollywood to Quantico to Baywatch, and you have more Hollywood films under your belt, do you feel like you've paved the way for what an Indian actress can achieve here?
PC: It's extremely hard. I didn't realize how difficult it was for a woman of colour until I got here. Not just South Asian, but anyone who doesn't look like the norm of what Hollywood is supposed to be. I mean I was told I was too "ethnic" for a part and wasn't cast in a film. I didn't even understand what that meant. Everyone is ethnic. Everyone has an ethnicity. Even Caucasian is an ethnicity. It made no sense. That's how Hollywood thinks and has thought. I mean I got amazing love and affection from the industry, from the press, from America in general, but there is this part of it which has this ingrained thing that immigrants who come from another part of the world cannot be a part of mainstream cinema. I'm really trying to break through that.
I hope that I, and a few other people who have had that opportunity in global entertainment in America, will be able to pave the way for at least the next generation so it would be easier for them and so that they wouldn't have to deal with the struggles that we did.
MF: You've been the first Indian Ambassador for Guess, first Indian Ambassador for Pantene, first South Asian to lead an American network show, first South Asian to be honoured at TIFF and first South Asian to win a People's Choice Award. What's the next first on your list?
PC: I do love my firsts. (Laughs) I've had a few firsts. I don't have them planned, not like I think I want to be the first. But I always liked to be a pioneer in things. I don't like walking a walked path. It's so boring to have a precedent and then to be able to live up to a precedent. I want to set precedents and set trends. I want to set bars which are higher and higher for myself. And I don't know when it will be so high that I won't be able to top it, but as of now, I've been pretty alright.
MF: What's a Hollywood film you wished you had done?
PC: Wonder Woman.
MF: And I heard you keep talking about James Bond — but not being the Bond girl, but the James Bond.
PC: (Laughs) Yeah. The way I see it is that we have to fight the fight for women being able to do incredibly amazing mainstream parts, and it would be great to see a female James Bond. I don't know if it will happen in my lifetime, and I don't know if it will happen with me, but I hope it does happen with someone. I really hope we get to see genderless iconic characters which are successful as male and female, and James Bond would be one of them. It would be really cool to see it. And she should be called James, not something like Jane or anything.
MF: And lastly, what's next for you?
PC: Good question. Well, Quantico Season 3 starts now, and we get the scripts tomorrow, so I'm very excited. That starts now, and I'm in the middle of finalizing what I would do next year. I really want to do a Hindi film because I haven't done one in two years, and at the same time I'm talking to people to do something here, so nothing set on paper yet. But that's the broad sort of outline.
Main Image Photo Credit: Pantene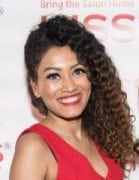 Author
Marriska (@marriska.fernandes) is an entertainment expert who has been creating celebrity, movies and pop culture content for digital outlets for over five years. From reporting headline-grabbing celebrity news to reviewing movies to interviewing Hollywood and Bollywood's finest actors and industr...