Beauty /
DIY: Vasanti Cosmetics Highlighter Takes You From AM To PM
DIY: Vasanti Cosmetics Highlighter Takes You From AM To PM
Beauty Feb 06, 2018
*Sponsored Post*
Keep that summer glow in the winter by using soft weightless highlighter to give a natural, supple glow. Check out our key three highlighter beauty tips! 
Vasanti Cosmetics has a See The Light Powder Highlighter Duo that gives a sun kissed shine on the cheeks, taking you from day to night with one swipe. Available in Silver Champagne (Rose Gold) and White Gold Champagne (18K Gold) this highlighter can be used in several ways.
1) Light Shimmer
For a natural glow, apply the highlighter on the apples of the cheeks. After contouring, simply use this as the final step for a radiant highlight.
2) Strobing
Strobing is still a hit trend in both Hollywood and Bollywood. This technique gives you a natural, glowing look with minimal effort. The more shimmer and glow you dab on, the more dewy finish you achieve. You can even combine bother the Silver Champagne and the White Gold Champagne for a dewy, illuminating red carpet look.
3) Eye Shadow
You can also use the highlighters as a shimmering eye shadow. Simply dab the shadow on the centre of the lid and use a blending brush over the corners of the lids. For a sharp look, apply the Vasanti Cosmetics Kajal Waterline Eyeliner Pencil on the waterline and tightline. This will create a defining look that will last all day long.
Main Image Photo Credit: Vasanti Cosmetics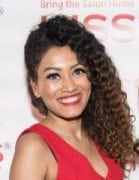 Author
Marriska (@marriska.fernandes) is an entertainment expert who has been creating celebrity, movies and pop culture content for digital outlets for over ten years. From reporting headline-grabbing celebrity news to reviewing movies to interviewing Hollywood and Bollywood's finest actors and industry...