Beauty /
DIY: How To Prep Your Skin For Winter Weather
DIY: How To Prep Your Skin For Winter Weather
Beauty Jan 30, 2018
Your skin needs some special TLC this time of year so check out our tips on how to prep your skin for winter weather right here!
The Polar Vortex not only takes away the sunlight from our lives, but leaves our skin dry, flaky and dead. This means we got to pay extra attention to our skin. Yes, drinking lots of water is key but you skincare routine it's a bit of TLC. Here's what we suggest you should do to let your skin breathe and feel alive again while the icy cold temps freezes our souls this winter.
Double the dose of Lip Balm
Glossier Balm Dotcom Trio, $40, is the most hydrating lip balm I've tried – and the flavors like cherry and rose smell great. You can feel the results after you apply it overnight. For dry, chapped lips, this super hydrating product is the real deal.
DIY Tip: I always apply this at night before bed and in the morning before under a lipstick. It soothes the lips and ensures the lips don't dry out during the day.
Cleanse Thoroughly
Cleansing the face thoroughly is an important step in you skincare routine. In winter, you can use a deep cleanser like the Ole Henriksen's Face the Truth Gel Cleanser which is suited for all skin types.
DIY Tip: After using this cleanser, I would recommend using the Ole Henriksen Truth Serum for that addition layer of hydration and toning.
Lather & Exfoliate 
Exfoliating and removing the dead skin layers in winter is almost an unwritten rule. The Eau Thermale Avene Gentle Exfoliating Gel not only purifies the skin but the gel softens the skin as well.
DIY Tip: Like any exfoliator, you should you this once a week after cleansing and then apply a hydrating moisturizer.
Cold Sore Prevention
In winter, several people suffer from cold sores. In order to prevent it, we suggest using the Lipivir gel twice a day to avoid getting painful blisters. This medical ointment is new to Canada and is completely drug-free. If you suffer from drug sores quite often, this might target the virus and avoid any blisters.
DIY Tip: Apply this onto the lips and wait for a few minutes before applying lipstick.
Acid Fix
Omorovicza's Acid Fix, $140, is the new product in the market that I am obsessed with. Winter makes the skin super dry and loading up on acids like lactic and glycolic acids help seal in the moisture. This multi-purpose acid fix exfoliates, peels and brightens the skin. I noticed quite a difference in my skin's texture after a few applications. I was already a huge fan of their Cleansing Balm and this one is my next go-to product.
DIY tip: At night after cleansing, apply a layer of this. I avoid any moisturizers and leave this overnight. Since it's acid based, you have to avoid sun exposure so it's best used two to three times a week at night.
Hyaluronic Acid
One ingredient to look out for in your winter skincare routine is hyaluronic acid. It acts like a sponge and locks in water all day. Vichy's Mineral 89, $32, offers 24 hours hydration as it includes hyaluronic acid and Vichy Mineralizing Thermal Water.
DIY tip: After applying this booster, apply a heavy moisturizer to seal in the ingredients and allow the skin to absorb the products.
Moisturize
Lierac Hydragenist Moisturizing Cream, $70, is the go-to for those that suffer from dry to very dry skin in winter. Combining rose water, jasmine and gardenia, this cream plumps the skin and keeps it hydrated. Plus, it has a delicious rosy scent.
DIY Tip: Apply a serum or acid fix booster before sealing the skin with this cream.
Scrub and Polish
Our skin requires twice the use for body scrubs and polish in winter to remove dry, dead skin and load up on moisture. The Body Shop's French Grape Seed Scrub, $32, is infused with organic sugar and grape seed scrub. It leaves the skin so soft and smooth with a fruit fragrance.
DIY tip: Use this scrub twice a week for super smooth and supple skin.
Body Moisturize
Give your skin some excess TLC in winter with a super moisturizing cream loaded with oils and nutrients. One of my favorite highly moisturizing cream is Soap and Glory's Sugar Crush Body Buttercream, $20. The ultra-rick cream is not only smells heavenly, but is also loaded with shea and cocoa butter, kiwi juice water and almond and coconut oil. Available at Shoppers Drug Mart
DIY Tip: I would suggest apply it twice a day, morning and night – the scented cream not only gives you a fresh feeling all day but locks in moisture as well.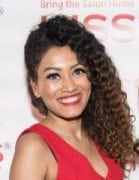 Author
Marriska (@marriska.fernandes) is an entertainment expert who has been creating celebrity, movies and pop culture content for digital outlets for over ten years. From reporting headline-grabbing celebrity news to reviewing movies to interviewing Hollywood and Bollywood's finest actors and industry...