Our Holiday Beauty Gift Guide 2017: Perfect Picks For The Beauty Geek
Holiday gifting is never easy, especially when it comes to shopping for beauty geeks. There are tons of brands that claim to be the best. Here to save the day—and your wallet—is our beauty gift guide, which highlights some of our favourites to shop this holiday season.
The Ultimate Pro Gift
Sephora Collection: The Vault PRO Brush Set, $281
The ultimate gift for a makeup artist or beauty lover is this limited-edition professional makeup brush set, which comes with 12 exclusive shapes. It includes the contour brush, angled liner, precision powder, airbrush concealer and more. Which lucky lady would you gift this to?
Feel-Good Gifting
The Body Shop: Countdown to New Year, $69
Opening presents doesn't have to stop at Christmas. The Body Shop has introduced a new gift to celebrate the week until NYE. The box contains a selection of makeup and skincare favourites, including the popular Himalayan Charcoal Mask. I'm pretty stoked about this unique calendar. It's a gift they won't see coming.
Hate that I Love You
Fenty Beauty by Rihanna: Match Stix Trio, $67
Umm, gifting Rihanna's Fenty Beauty is a no-brainer for a beauty lover who hasn't been able to get her hands on RiRi's collection. The Match Stix Trio is my favorite, with options for every skin tone, including medium to dark South Asian skin tones. The two matte options conceal and contour while the shimmer skinstix highlight, create a flawless, dewy look. The lightweight formulas are seamless and take your complexion to a whole new level. She'll forever be grateful for this gift.
For the Love of Brushes
Quo: Artisan Brush Set, $79
Available at Shoppers Drug Mart, Quo offers a range of beauty gift sets for every budget. One gift set that particularly stood out to me was the Quo Artisan Brush set, which contains ten brushes — including a foundation brush, shadow brush, powder and blush brush. These brushes help in the blending process, making it easier for a non-pro makeup artist to use.
Pout Perfect
DIOR: Rouge Dior Liquid
Rouge Dior Liquid Lip Stain is the stocking stuffer that will light up anyone's holiday. This intense, creamy lip stain is available in matte, metal and satin. This liquid lip color is not only long-lasting but also creates quite the pout.
Chic and Sassy
KISS USA imPress Manicure Nails, $7.99
The imPress manicure nails are the cutest, most fashionable and convenient nail set. I'm obsessed with them. The holiday collection includes adorable Merry Mani Gel Nails with Santa Claus Accents, Reindeer and Gold Glitter Accents. All you do is peel, press and go. These are the best stocking stuffer gifts you could give a style geek for the holidays.
Hostess Gifting
NEST: Birchwood Pine Liquidless Diffuser, $84
This scented liquid-free diffuser is just what a well-kept house needs this holiday season. This innovative diffuser transforms the room without any flames, and you can customize how strong you'd like the fragrance based on the room size. With a base of musk and amber and notes of birchwood and white pine, this diffuser is a great gift option for the host of your next holiday party.
Practically Perfect
Lierac: Hydragenist Moisturizing Serum, $65, and Cream, $70
The Lierac Paris Hydragenist range is the winter skincare essential suitable for the recipient who prefers practical gifts. What better way to treat them than by splurging on a moisturizing set of serum and cream that not only smell heavenly, thanks to rose water and jasmine, but also instantly smoothe and plump the skin?
Long Live Liners
Annabelle Cosmetics: Neochic Collection, $9.95 each
Annabelle Cosmetics' Neo Chic Graphic collection is another ideal stocking stuffer for the beauty geek who devours eyeliners. The brush tip eyeliner, the Eyeink bubble, the Eyeink Sharpie and the 101 eyeliner are simply some of the ideal options for a perfect winged liner application.
'Tis the Skincare Season
Vichy: Dynamic Hydration Gift Set, $39.95
The much-loved skincare brand that's known for its hydrating products offers a selection of gift sets this holiday season. The Vichy limited-edition hydration gift set includes Pureté Thermale One Step Cleanser, Minéral 89 Daily Skin Booster, Aqualia Thermal Serum and Aqualia Thermal Rich. So how about this one for the skincare lover?
A-List Crowd Favourite
Omorovicza: Deep Cleansing Mask, $150
A celebrity favourite, Omorovicza's Deep Cleansing Mask purifies and brightens the skin. For the skincare lover in your life, make sure to splurge on this mask, which shows immediate results. I love the way the skin feels after the first application. The moor mud and white clay combo is rich in calcium and magnesium, sourced from Hungary's mineral-rich healing waters.
The Wildly Popular
Glossier: The Super Pack
With everyone currently obsessed with Glossier since it came to Canada, it's time to spoil someone with some of the hero Glossier products. The Super Pack consists of serums packed with nutrients to give the skin that extra boost. Super Pure, Super Glow and Super Bounce are winter staples. I'd say throw in the Glossier sweatshirt and you're good to go.
Supermodel Glam
Maybelline: Gigi HadidXMaybelline New York Collection
The highly anticipated bombshell Maybelline collection by supermodel Gigi Hadid finally went on sale on Amazon.ca and Walmart.ca before it hit drugstores on December 5. You can gift the superstar in your circle with the must-haves from the collection. Snag the Gigi East Coast Glam Gel Eyeliner Pencil in Black or the Gigi West Coast Glow Eye Shadow Palette for that Cali glow. These items are great stocking stuffers! The Liquid Strobes are my favourite — they give cheeks a dewy glow, much like Bollywood's Kareena Kapoor.
Stocking Stuffer Fave
KISS NYC: Goddess Palette Eyeshadow, $16
A great stocking stuffer for a beauty geek is the new KISS NYC range of beauty staples. The KISS NYC Goddess Palette Eyeshadow includes 12 matte and shimmer shades for that smoky eye look. I'd also suggest the Halo Strobing palette for that Instagram-worthy glow.
Kylie Jenner Would Approve
Nudestix: Creator's Palette, $65
The Creator's Palette features six Magnetic Matte Lip pencils in an ultra-hip Magnetic Matte Lip Color formula. This little kit is the ammunition you need to get that Kylie Jenner pout. The matte pencils accentuate the lips and are my favourite matte pencils on the market. This stocking stuffer option would also make a lovely secret Santa gift among your squad.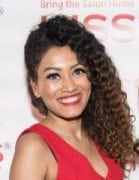 Author
Marriska (@marriska.fernandes) is an entertainment expert who has been creating celebrity, movies and pop culture content for digital outlets for over ten years. From reporting headline-grabbing celebrity news to reviewing movies to interviewing Hollywood and Bollywood's finest actors and industry...