Strobing: The New Contouring Trend to Try

Goodbye contouring, hello strobing! Check out the latest in feature-enhancing makeup tricks.
While contouring was hot thanks to the Kardashians, it was quite a challenge to master the beauty trend. Now, instead of sculpting your cheeks with a bronzer, strobing focuses solely on highlighting certain areas where natural light hits the face. This includes your cheekbones, brow bones, cupids bow, the center of your forehead, along the bridge of your nose and your chin. It's like your regular routine of contouring and highlighting, skipping the contouring stage.
I find strobing an easy, quick routine that gives you a natural, glowing look with minimal effort. The more shimmer and glow you dab on, the more dewy finish you achieve. From Kareena Kapoor Khan to Sonam Kapoor and Alia Bhatt, every Bollywood celeb is acing and gracing this makeup trend. You can see it in the selfies!
Alia Bhatt
Photo Credit: www.
Instagram.com/aliaabhatt

Kareena Kapoor Khan
Photo Credit: www.Instagram.com/therealKareenaKapoor

Here's a routine that you can follow for that glam, Bollywood-style, dewy glow.

Exfoliate
First, get rid of dead cells with a good cleanser. Soap & Glory's Peaches & Clean Cleansing Milk, $25 CDN, removes makeup and other dead cells from within in one sweep. The sweet peaches scent is a bonus.
Photo Credit: Soap & Glory
Hydrate
Using a deep cleansing face mask will keep the skin hydrated. It's a must now that we're heading into winter. To get a glowing look, your skin must also feel fresh and hydrated. The Fresh Black Tea Firming overnight Mask, $95 CDN, provides an intense moisturizing treatment that gives a fresh look the next day. I also use the Vichy Aqualia Thermal Night Spa, $28 CDN, a sleeping mask providing supple, refreshed skin in the morning.

Photo Credit: Fresh, Vichy

Moisturize
For my extremely dry skin, I'm super grateful for The Body Shop's Oils of Life Intensely Revitalising cream, $34 CDN. It contains black cumin seed oil, rosehip seed oil and camellia seed oil with micro-pearls for that extra moisture. The non-greasy formula is a perfect base for glowing skin.
Photo Credit: The Body Shop
Foundation
Make Up For Ever's Ultra HD Invisible Cover foundation, $50 CDN, gives a camera-friendly look and has a light veil of colour shielding your facial flaws. The collection comes in 40 shades from very light to dark skin tones.
Photo Credit: Make Up For Ever
Highlighting
For light skin tones, go with champagne highlighters and for medium brown skin tones go for golden hue highlighters that blend well with olive tones. If you've got oily skin, choose a matte foundation and blush. You can then go with a shimmery illuminating highlighter that still gives you the strobing look. My go-to highlighter is the Rodial Instaglam Glow, $36 CDN, for enhancing the skin's radiance. It's super shimmery and I blend it using a blender and even it out. You start by applying a light layer on the cheekbones, brow bones and on the cupid's bow and then line it along the bridge of the nose, forehead and chin. Avoid the forehead and chin if you've got oily skin.

Photo Credit: Rodial
If I'm aiming for a simple look with a light illuminating glow, I go for the Sephora Collection MicroSmooth Baked Luminizer, $17 CDN. The radiance-boosting minerals adds a seamless shine to the face for a simple glow.
Photo Credit: Sephora
For those of you who like the powder highlighters, the Vasanti Light Powder Highlighter Duo in Golden Child, $29 CDN, is a must. It works on all kinds of skin tones.
Photo Credit: Vasanti Cosmetics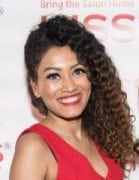 Author
Marriska (@marriska.fernandes) is an entertainment expert who has been creating celebrity, movies and pop culture content for digital outlets for over ten years. From reporting headline-grabbing celebrity news to reviewing movies to interviewing Hollywood and Bollywood's finest actors and industry...