Indoor Plants With Health Benefits
Culture & Lifestyle Feb 08, 2015

Indoor Plants Are Not Only A Beautiful Addition To Any Home Décor, They Also Provide Some Health Benefits That Are Certainly Noteworthy
Purify The Air
Studies have shown that indoor air quality can be up to 12 times worse than outdoor air quality. The main causes are toxic air pollutants like benzene, trichloroethylene and formaldehyde. These are typically released from household products like paint, cleaning products and plastic products. By using the plants identified by MNN.com, purifying the air is easy.
photo: houseplantsforyou.com
1. Spider Plant
Spider plants reduce toxic air pollutants like benzene, carbon monoxide, formaldehyde and xylene. This plant is very low-maintenance and resilient to neglect, making it perfect for busy people.
photo: flowerpicturegallery.com
2. Gerbera Daisy
This plant's exquisite flower effectively reduces the air pollutant trichloroethylene, which can be found in laundry products.

3. Snake Plant
Snake plants reduce the formaldehyde in the air. Formaldehyde is typically found in paper towels, tissues, toilet paper and cleaning solutions.
4. Chrysanthemum
These breath-taking blooms reduce the air pollutant benzene, which can be found in paints.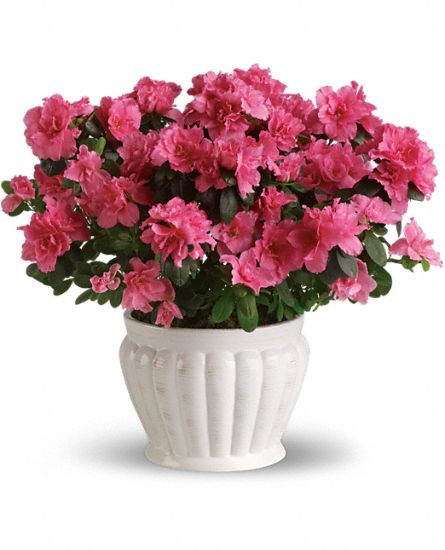 photo: s7d2.scene7.com
5. Azalea
This plant's luscious blooms are another effective way to reduce formaldehyde.
6. English Ivy
This plant is perfect for bathrooms because it reduces air pollution that can stem from airborne fecal matter particles.
photo: actagriculture.com
7. Bamboo Palm
Bamboo palms reduce benzene, trichloroethylene and formaldehyde.
8. Peace lily
These white blooms match any interior colour while also reducing air pollutants like formaldehyde, benzene, trichloroethylene, toluene and xylene. This is another plant that's beautiful but resistant to certain amounts of neglect, making it perfect for busy people.
Bodily Benefits
According to brightnest.com, house plants like the one's I've mentioned above also offer health benefits that directly affect different parts of our bodies.
1. Cold Fighters
If you've come down with a miserable cold, plants assist in regulating humidity, ensuring that a cold's sinus complications don't leave you feeling too atrocious.
2. Sleep Fighters
By reducing carbon dioxide in the air, these plants also reduce your sleepiness! Plus, the oxygen they release helps ensure that you get enough oxygen for the perfect night's sleep.
3. Mood Improvement
Simply looking at a beautiful plant can make you feel more positive and banish a sour mood.
4. Skin
Indoor plants reduce dry skin by regulating moisture levels. Some plants, like aloe vera, act as an effective, all-natural salve to heal wounds, burns and skin conditions like psoriasis. Plus, this powerful South Asian plant can help the skin block out radiation caused by x-rays.
5. Natural Medicine
Aloe vera has also been known to offer healing powers when taken internally. Studies have indicated it reduces the discomforts caused by gastrointestinal diseases. Plus, it can also assist diabetics by reducing unsafe rises in blood sugar levels.
From the fantastic health benefits we've looked at, you can see that adding some of these amazing indoor plants to your home is a great way to keep you healthy.
Feature Image: annies-gardens.com
Author
Maresah (@sah_mare) our guest tech expert is a University of Toronto graduate with a double major in Political Science and English. She has an ever-present passion for journalism and she loves staying updated on all things tech. Maresah also loves karate, reading, running and sight-seeing. Check her...