Beauty /
The Best Beauty Looks At TIFF 2017 & DIY Tips!
The Best Beauty Looks At TIFF 2017 & DIY Tips!
Beauty Sep 14, 2017
Toronto International Film Festival, one of the top film festivals in the world, took place this week and we have our list of the best beauty looks at TIFF 2017 right here! 
The 42nd annual Toronto International Film Festival is currently underway. The city was pouring with A-list stars as the festival began on September 7. From Angelina Jolie to Priyanka Chopra, some of the most talented actresses in film walked the red carpet and sported some of the hottest beauty trends. The minimalist trend was pretty apparent as many celebs opted for a light colour palette with highlighted cheekbones.
Priyanka Chopra
Priyanka Chopra was the guest of honor at the TIFF Soiree in support of the Share Her Journey campaign. Her bronzed look was further accentuated with winger black eyeliner and loose waves sitting along the side of her face. Chic and subtle was her theme for the night.
DIY Tip: For brown skin tones, going all out with a bronzed look is quite doable and a chic option for a night out. Like PC, dab bronzer on the cheeks, apply a brown lipstick and complete the look with a winged eyeliner.
Angelina Jolie
Angelina Jolie walked the Breadwinner and First They Killed My Father red carpets with her kids earlier this week. She looked elegant while keeping her beauty look simple and natural. She chose to go with a light concealer, mascara and a light pink lip color.
DIY Tip: To have a subtle hint of shine under the eyes, apply a brightening concealer like the Benefit Cosmetics Boi-ing Brightening concealer, which gives an under eye glow.
Jessica Chastain
Jessica looked radiant in a red dress and sported a bright red colour at the Woman Walks Ahead red carpet. A light eye shadow and her 100-watt smile made her stun at the premiere.
DIY Tip: If you want to just accentuate one feature, go for the eyes. Use lashes like KISS for added impact.
Jennifer Lawrence
J-Law focused on the eye trends that have been popular this year. She went with a winger eyeliner and glitter under eyeliner and a '70s updo. She looked like a fragile porcelain doll, given that she was at the red carpet premiere of her psychological thriller mother!
DIY Tip: Begin by drawing a winged line on the upper lids and then connect the under eye liner for best results.
Elle Fanning

Elle looked like a fairytale princess at the Mary Shelley red carpet premiere in a figure-hugging pink dress and complemented her look with an enviable glow using highlighter, lots of blush and a soft pink lip color.
DIY Tip: A little goes a long way and Elle is proof. To give a rosy glow, apply blush on the apples of the cheek and let your fresh face do the talking.
Halle Berry
Halle Berry stunned on the red carpet premiere of Kings. She sported a chic top knot with minimal makeup and bronzed cheeks.
DIY Tip: Use a bronzed mattifying powder all over the face after applying foundation and then follow with a bronzer on the cheekbones for the perfect contour. You can also apply bronzer as a blush over the cheeks!
Ellen Wong

TIFF rising star Ellen Wong, who also stars in the Netflix series GLOW, stunned on the TIFF Soiree red carpet. The actress kept it simple with tussled waves, light matte lips and a contoured cheek.
DIY Tip: You can contour your cheeks with blush instead of a bronzer for a rosy, yet contoured look.
Nicole Kidman

Nicole looked mesmerizing at The Killing of a Sacred Deer red carpet premiere as she sported dark red lips, glowing cheeks and piercing eyes that were heightening with mascara. The gorgeous actress didn't overdo it and the camera simply loved her, as did her fans.
DIY Tip: It's always ideal to use a mattifying powder like Glossier's Wowder powder for a clean, matte look and then dab highlighter over the areas you want to shine.
Margot Robbie

Star of I, Tonya Margot Robbie used a natural palette to let her strong facial features shine. A light blush, light peach lips and a heavy does of mascara kept her glowing on the red carpet.
DIY TIP: To make the eyes stand out, apply a heavy dose of mascara and a dab of light gold eye shadow to make the eyes appear bigger, making it your best feature.
Karimah Westbrook 
Downsizing star Karimah Westbrook brought her A-game to the carpet with her perfectly coiled curls and big-lash mascara. She completed her look with a dab of pink gloss.
DIY Tip: Always use a leave-in conditioner and/or butter to get the best of your curls.
Emma Stone

Emma Stone also went for a minimalist look at the red carpet premiere of her film Battle of the Sexes. Sleek hair, peachy lips and light eye shadow was what she opted for at the red carpet.
DIY Tip: For sleek styled hair, I'd suggest use a strong gel and setting spray to give a top-notch red carpet-worthy look.
Diane Kruger
Diane Kruger looked flawless at the red carpet premiere of her film In the Fade.  She complemented her shimmering dress with shimmering gold eye shadow, strobed cheeks and light pink lips.
DIY Tip: Forget the contour kits and simply apply highlighter on the cheeks for a dewy look. This strobing technique is pretty popular on the red carpets.
Carey Mulligan
Carey Mulligan also kept her makeup minimal with a focus on the eyes at the red carpet premiere of her film Mudbound. With a light blush and heavy eye makeup, her red carpet look was on point.
DIY Tip: When in doubt, always go for smoky eyes and keep a natural palette for the rest of the face.
Main Image Photo Credit: Getty Images/TIFF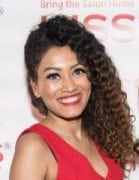 Author
Marriska (@marriska.fernandes) is an entertainment expert who has been creating celebrity, movies and pop culture content for digital outlets for over ten years. From reporting headline-grabbing celebrity news to reviewing movies to interviewing Hollywood and Bollywood's finest actors and industry...