Work Life /
CEO Raj Girn's Newsletter Welcome Note – July 10th, 2015
CEO Raj Girn's Newsletter Welcome Note – July 10th, 2015
Work Life Jul 03, 2015
Welcome to this week's buzz worthy round up of news, views & trending topics…
Dear Friends,
Last week, Part 1 of my two-part "no holds barred" interview was released for
ANOKHI
Magazine, after I finally conceded to years of my Editor-in-Chief, Hina's requests to do a cover, accompanied by a full throttle "tell-all" interview. I hope you enjoyed reading it.
Today, in Part 2 of the interview, I talk about why I started the
ANOKHI MEDIA
brand over 12 years ago, what the brand's journey has been like behind-the-velvet rope, and the benefits and challenges of being an entrepreneur and a single mother. I hope this helps any of you who are seriously considering starting your own business, especially if you are a parent. You can check out the concluding portion of my interview with
ANOKHI
Magazine's Editor-in-Chief, Hina Ansari here:
Raj Girn in the Raw | Part Two: The Entrepreneur.
Tell me what you think about it, and if you're ready to tell me why you think your story should be told, contact me here:
[email protected]
.
Other stories in this week's
ANOKHI
Magazine
Weekly Features Edition
, include:
· Celebrating Pan Am Festival Cities
·
Our Must-Read Lit List For July
·
NorBlack NorWhite
: Canadian Designer Duo Steals Hearts of Mumbai's Millennials
And don't forget to check out all of or other trending stories from this week at
Blogs
,
Pulse TV
and
Spotlight TV
.
Until next week, have a great rest of the week and keep in touch with us via
Facebook
,
Twitter
and
Instagram
!
Raj Girn
Founder, President, CEO
ANOKHI MEDIA
Newsletter Sign Up
Subscribe to our FREE newsletter for all of the latest news, articles, and videos delivered directly to your inbox each day!
ANOKHI UNCENSORED-->
Launching
September 24th, 2019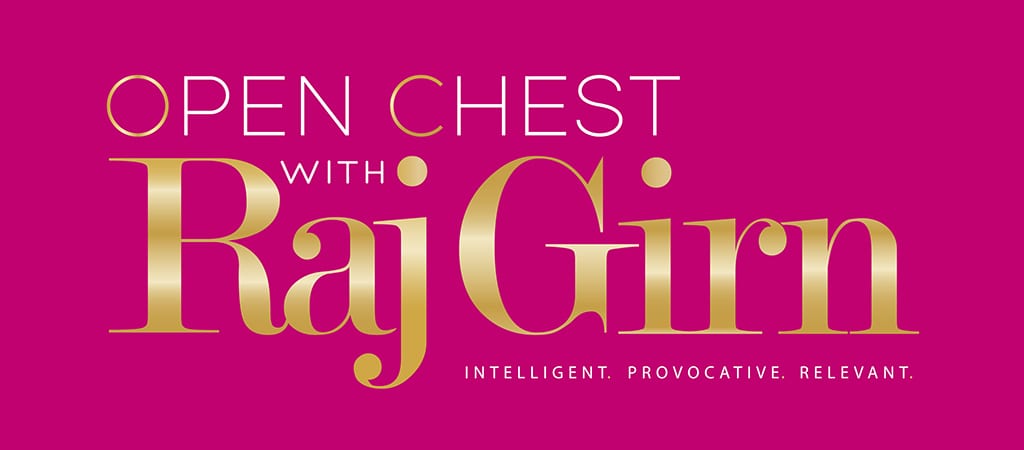 Weekly Celebrity Talk Show Airing