Work Life /
Live Tinted Founder & CEO Deepica Mutyala Shares Why Being Real Is The Key To Her Business Wins
Live Tinted Founder & CEO Deepica Mutyala Shares Why Being Real Is The Key To Her Business Wins
Work Life Aug 09, 2023
Deepica Mutyala the Founder & CEO of Live Tinted recently celebrated her entry into the Canadian market by way of Sephora Canada. In just four short years, her award-winning vegan, clean and cruelty-free beauty brand has hit various ground-breaking milestones, while hitting sales records (1 million units sold to date!), along the way. During her Canadian stop, she sat down with us to talk about her leap into the world of entrepreneurship, how her Hue Stick became our hero, and why transparency is key when sharing her business journey with her online followers.
In July 2023, Deepica, having heeded the call of the Canadian members of her Tint Fam, launched Live Tinted at Sephora Canada.  During her visit to Toronto, Deepica sat down with us for a far-reaching interview during which this marigold of Texas revealed what propelled her to chase her dreams; the values that shaped the development of Live Tinted, and her future plans.
Deepica, the younger of two daughters born to Indian parents, was born on July 4, 1989, and raised in Sugarland Texas. Like many South Asian children growing up in the diaspora, Deepica recalled not seeing herself reflected in the world around her — and this lack of representation planted the seeds of her eventual entrepreneurial venture.
Embracing Entrepreneurship
Meena Khan: What propelled you to start Live Tinted?
Deepica Mutyala: I started this brand because I did not see myself represented in any brands. I grew up in Texas and there was a lot of the same standard of beauty that you saw when you were walking down the makeup aisle and also when you turned on the TV.
MK: What steps did you undertake to become an entrepreneur?
DM: I just structured every part of my life to make it, so that this (Live Tinted) was going to happen. My major in college was marketing and I worked on the corporate side of the industry. I worked at a start-up called Birchbox. I had a video go viral on YouTube in which I used a red lipstick under my eyes to mask dark circles which ignited a career as a beauty influencer and all of that was done to one day build the brand.
MK: Looking back prior to Live Tinted, what were the things that your family and friends said and did, that encouraged you to take the leap into entrepreneurship?
DM: It was less about what they said and more about what they did. Watching my dad's work ethic was so inspiring. My mom is an entrepreneur herself — seeing her wins were inspiring, but really seeing her fail and get back up and do it again taught me so much.
MK: You are very active on social media, taking your followers on your journey. How do you deal with the stress of being an entrepreneur and then also being on social media?
DM: Breath work, meditation, family/friends, and limiting screen time especially on weekends.
Making Live Tinted A Reality
MK: When you were developing the brand, what did you establish as the benchmark for the products?
DM: For the last 4 years we have focussed on creating quality beauty make-up products that show up on all skin tones, while also addressing the number one concern of our community which is hyperpigmentation. When we launched the Hue Stick, I realised that we had an opportunity to own hyperpigmentation. Our community didn't just want solutions to just mask hyperpigmentation; it wants solutions to prevent and to mitigate it.  We don't launch products to launch products.  The research and development are focussed and quality driven.
MK: Tell me about the name itself  'Live Tinted'?
DM: I wanted it to be a mantra and a lifestyle. The brand's DNA started with making sure that people who did not see themselves represented in the beauty industry, see themselves. Live Tinted applies to everyone.
MK: Orange features prominently in the packaging and look of Live Tinted. What is your connection to the colour?
DM: We started with copper before we ended up with marigold. There are golds and silvers and copper was the in-between metal that had been forgotten. I feel that the community felt the same way; that it had been forgotten by the beauty industry. No one was doing copper, and I love the orange undertones. (Now) my goal is that people see marigold because it is a beautiful, happy vibrant flower that is tied to many cultures. I want this brand to cross-culturally connect people.
MK: Let's get to the nuts and bolts of entrepreneurship and that is financing. What was that journey like as an female-founder. Did you deal with sexism or racism? If yes, how did you overcome these issues?
DM: Absolutely! Women receive less than 2% of venture capital funding and women of colour receive less than a percentage. It was the hardest journey I went through in my professional career. You just have to keep going and know that the work you're doing is going to make it that much easier for the girl behind you.
MK: Due to the current economic climate, it is becoming more costly to obtain financing, what are the biggest challenges that you have identified for entrepreneurs in the beauty space?
DM: We are focused on transparency. I've always taken my audience on the journey with me. I'm honest with them about what's happening in the macro-economy and what that means for us. Lucky for us, our community is rooting for us. If things are happening in the world which impact our business, I will just share that with them and make the adjustments accordingly.
MK: How did you know that you "made it"?
DM: I've always said that I measure success not by sales, but by the impact Live Tinted has on people's lives. I'm so proud of how far Live Tinted has come in the four years since we launched our first product, but this is really just the beginning. There is so much more to come that I can't wait for, and so much more impact we can make in this industry.
Being Present Now And For The Future
MK: Initially, you developed the Live Tinted platform to understand the community— what are the most important lessons that you learned from the South Asian and BIPOC community?
DM: Live Tinted was started as a community platform, and the biggest lesson I learned was just how many of us had beauty concerns that were really underrepresented in the beauty industry — like dark circles. These are the unique beauty concerns that Live Tinted now exists to solve, and it's all because it started with our community.
MK: Looking back, what is one business decision that you would like to revisit and reverse?
DM: Nothing. Even the mistakes are important because they are part of my journey. I spent so many years saying I wish we did this or that. It's just not the right use of headspace.
MK: What three products would you say should be in everyone's beauty regime?
DM: If I had to pick only three products, I would say our Huestick Color Corrector because it's the product that we launched with and has made it to the Allure Best of Beauty Hall of Fame. Next, our Hueguard 3-in-1 SPF, Primer, and Moisturizer because everyone told me not to try to make a mineral SPF with no white cast, but we did it and I love it. Then, I would say our Superhue Hyperpigmentation Serum Stick — it was our first true skincare product and it's so incredible for dark spots.
MK: Tell me about the future of Live Tinted? 
DM: I want us to be the next M.A.C, Bobbi Brown. I want to normalise a brand started by a South Asian woman that serves everyone.
Live Tinted is now available at sephora.ca and in-stores in Canada.  The handsome line of effective, reasonably priced cosmetics and skin care has products for everyone.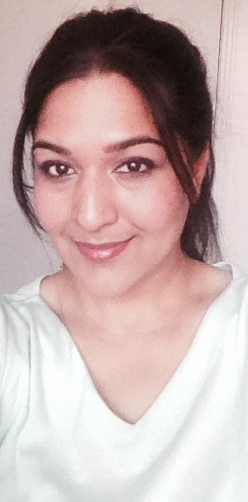 Author
Meena (@meenalaregina) always loved the idea of exploring the non-conventional idea of beauty. Having grown up as a pimply chubby teenager, she wanted to see the change in the world that best reflected your uniqueness as well. Her well-received collection of blogs where she tries on various beauty p...