Work Life /
We Tell You Why Neerja Patel and Dr. Zabina Bhasin Are '100 Women To Know In America'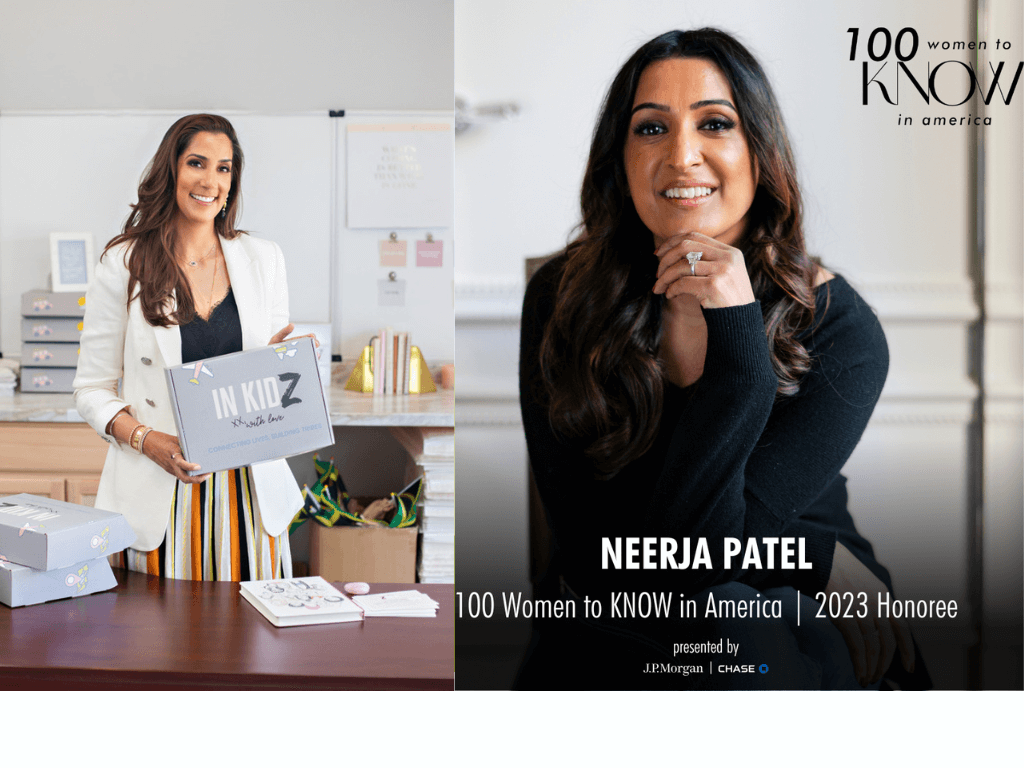 We Tell You Why Neerja Patel and Dr. Zabina Bhasin Are '100 Women To Know In America'
Work Life Jun 19, 2023
Recently Know, an American global media company released their annual "100 Women To Know In America" list with a gala held in Phoenix Arizona. Titled the "Summit 2023",  female leaders from across the US gathered to toast and celebrate all the accomplishments that have been recorded this past year. Among the winners we chatted with PR powerhouse Neerja Patel, and psychiatrist and entrepreneur Dr. Zabina Bhasin MD. We chatted with Neerja and Zabina about receiving the award, their respective career journeys, and valuable insights for all of us! 
According to Know "'The 100 Women to KNOW Across America Award', presented by JPMorgan Chase is a recognition that showcases the most influential, achieved, and honorable women in our society. Following a nomination and interview process, these women entrepreneurs, executives, creatives, and philanthropists have not only grown their dreams, but have created boundless opportunities for the next generation of female leaders. These women exemplify what it means to be high-achieving and ambitious on the next level and continue to pour into their communities as they do so."
Neerja Patel was pleasantly surprised when she was one of the honourees of '100 Women To Know In America'. Spending 10-odd years building her PR firm, which specializes in South Asia television, movies, fashion, food and lifestyle categories, Neerja says that she was convinced they sent the email to the wrong person about the nomination. "When I was notified I was going to be one of the honourees, I was shocked," she smiles, adding, "I know I'm fortunate to be invited into some great rooms and be part of amazing power tables, but I also know I must do a better job to own those moments, exude more confidence, and appreciate that I was invited with intention, and I deserve to be there." here are excerpts from our conversation:
Mrinalini Sundar: What does this honor of being one of the '100 Women to Know in America' mean to you?
Neerja Patel: It meant everything to be recognized for my work in the South Asian community from a wider audience. The award was presented by JPMorgan Chase along with The Know Women and recognized and showcased the most influential, achieved, and honourable women in our society. I've spent years championing women of colour to be recognized and celebrated in the U.S. So, to be one of them was so meaningful.  I also hope the award inspires more women to break barriers and pursue their dreams. My favourite part was that women weren't just honoured for being successful professionals, but also for their impact on their communities. Knowing that I'm making a difference to the people around me I hold very dear to my heart.
MS: What inspired you to start a PR firm?
NP: I used to work for a television station, leading the marketing team. Additionally, I started hosting an on-air show for them and went on shoots in the evenings and weekends. Once I had my son, it was challenging to manage that lifestyle and I left the TV world.  Shortly after, a friend, who had landed a role on the reboot of 90210, called me and asked if I would help him share the news with some media contacts I had made over the years. I had never written a press release before, but we put something out there. I started emailing it to a few of my media contacts, expecting nothing to come out. Every media outlet I pitched it to carried the news, which was the birth of Neerja PR. I loved working with media persons and brands again to help upcoming artists, small businesses, and community events build their brands.
MS: How did you successfully merge traditional Indian values with modern-day culture to create campaigns that target multi-generations?
NP: In my personal life, I try to incorporate values that I learned from my parents and pass them down to my kids in a way that makes sense to them in today's world. Similarly, in our campaigns, we try to highlight what it means to be a South Asian and talk about what makes us special, our culture, and our love for food, films, and fashion. It's important not to lose our cultural history that makes us so vibrant, but also adapt them to modern-day times in a manner in which it connects with the broader community.
MS: What were some of your biggest challenges, and how did you overcome them?
NP: Having people believe that you're providing value was a task. I started Neerja PR over 13 years ago when there weren't many South Asian publicists around. People didn't necessarily understand what you did or why your services were important. So, I spent a lot of time working with clients and media making them understand why streamlining the process was worth it. I didn't give up, I continued to centralize things for my clients, provide good stories for the media, strengthen my relationships with journalists and editors and delivered results that were a win for everyone. Now, when I hear words like 'PR maven', 'pioneer', and 'self-made' while describing myself, I'm touched by the people that have not only recognized but supported me in this journey.
MS: What advice would you give to women who aspire to become leaders?
NP: No one can champion for yourself the way you can. Don't let gender ever hold you back from achieving something you want. I know that sounds cliché… there can be many reasons you can face hurdles in going after something, but being a woman should never be that reason. A good leader doesn't forget who helps them on the way up. So, always remember where you started. Be a good listener, be resilient, take risks and know that we can do hard things. Lastly, learn to drown out the noise of naysayers and you will rise.
MS: How do you stay focused and productive amongst the competition?
NP: Well, I try to focus on why a client has chosen me over the competition and work towards giving the best for them. It's easy to get wrapped up in what others are doing, but I remind myself that there is room for everyone, which helps in keeping me focused and productive. I truly believe that you learn from the ones that have been there before you and hope you're a good role model for the ones that follow your path. Well, if you see your competition as a way to learn and teach, they're no longer a threat but an ally.
MS: What is your message to new immigrants who want to make it big in the U.S.?
NP: The past 5 – 10 years have been groundbreaking for South Asians across multiple industries, especially in the world of finance and entertainment. By watching more people of colour on our screens and million-dollar corporations being led by prominent South Asians, our community is finally getting recognized. While there is still a lot of work to be done, we are definitely marching ahead than we were years ago.  Work hard, stay focused, and ignore the noise… you'll get there. If you don't find an open path, create one. If you're not getting a seat at the table, build one. Anything is possible.
Our next honouree of '100 Women To Know In America', Dr. Zabina Bhasin MD is a child psychiatrist, a diversity and inclusion expert and entrepreneur. Her work educates families and schools, fostering future generations of truly global citizens. Based on the belief that cultural differences unite us rather than divide us, Dr. Zee creates engaging resources that make understanding DE&I (Diversity, Equity, and Inclusion) simple for anyone. As a first-generation American, Dr. Zee grew up surrounded by diversity and launched In KidZ culture-focused toys and products to give families everywhere access to the world's varied and rich traditions.
MS: How did you successfully merge traditional Indian values with modern-day culture to create campaigns that target multi-generations?
ZB: Understanding the target audience. Conduct thorough research to understand the preferences, values, and aspirations of different generations within all populations. This will help identify similarities and areas where traditional values can be integrated into modern campaigns. Next, respecting cultural heritage. Recognize and appreciate the significance of traditional values while designing campaigns. Incorporate elements such as customs, festivals, and traditional attire to create a sense of familiarity and connection. Thirdly, emphasizing family and community: Highlight the importance of family and community bonds, as they are deeply rooted in Indian and other cultures.
Showcase narratives that depict multigenerational relationships and the strength of family ties, resonating with the target audience across generations. Following that, promoting social responsibility. Traditional Indian values often emphasize concepts like compassion, respect, and social responsibility. Develop campaigns that align with these values by addressing social issues, promoting sustainability, or encouraging acts of kindness and charity like in other communities. Next, leveraging technology and popular culture. Blend traditional values with modern platforms and trends to make campaigns relatable and appealing to younger generations. Utilize social media, digital platforms, and popular culture references to engage with a wider audience. Finally, balancing tradition and modernity. Strike a balance between tradition and modernity, showcasing how they can coexist and complement each other. Emphasize the relevance and adaptability of traditional values in contemporary times, reinforcing their value to both older and younger generations.
MS: What is your message to new immigrants who want to make it big in the U.S.?
ZB: Embrace your dreams, persevere, and believe in yourself. The United States has a rich history of immigrants who have achieved remarkable success, and you have the potential to do the same. Here are a few pointers – embrace your unique background, set clear goals and work hard, leverage available resources, network and build connections, embrace education and lifelong learning, stay resilient and adaptable, and finally, maintain a strong work ethic and integrity.
MS: What advice would you give other women aspiring to become leaders?
ZB: Here is some advice for women aspiring to become leaders: believe in yourself: Recognize your worth, capabilities, and unique perspectives. Cultivate self-confidence and trust in your abilities as a leader. Embrace your strengths and be unafraid to showcase them. Next, set clear goals: Define your leadership aspirations and set specific, achievable goals. Then break them down into manageable steps and create a roadmap for your professional growth. Stay focused and committed to your vision. The third pointer would be to seek growth opportunities: Continuously invest in personal and professional development. Seek learning opportunities through formal education, workshops, mentorship programs, or industry conferences. Acquire new skills and knowledge that are relevant to your leadership goals. Women leaders should also build a support network, surround yourself with a supportive network of mentors, peers, and role models who can provide guidance, advice, and inspiration.
Seek out both women and men who believe in your potential and can offer diverse perspectives and insights. Another pointer is to embrace challenges: Don't shy away from challenges or setbacks; see them as opportunities for growth and learning. Learn from failures, it's okay to fail!  Make adjustments, and keep moving forward. Finally, support and uplift others: Foster a culture of collaboration, inclusivity, and support. Encourage and empower others, particularly fellow women, to pursue leadership roles. Create opportunities for mentorship, sponsorships, and networking to help others succeed. Remember that leadership is a journey, and it takes time and effort to develop and refine your skills. Be patient, stay persistent, and keep learning and growing. I still am, I am now close to what I envision myself to be.  As a woman leader, your unique perspectives and contributions can significantly impact your field and inspire others.
MS: How do you handle difficult conversations or conflicts within your team?
ZB: Handling difficult conversations or conflicts within a team requires a thoughtful and constructive approach. I am still learning and will always be learning how to navigate this. I have surrounded myself with a team that is much smarter and subject matter experts in their fields that help me guide this.
Here are some things I have learned on the way:
Prepare and choose the right time: Before initiating the conversation, take time to prepare yourself. Clarify the purpose and desired outcome of the discussion. Choose an appropriate time and place where everyone involved can have a focused and uninterrupted conversation.
Next, engage in active listening: Start the conversation by listening to all parties involved. Allow each person to express their thoughts and concerns without interruption. Demonstrate empathy and seek to understand their perspectives. Encourage open and honest communication. Stay calm: It's essential to remain calm, composed, and professional during difficult conversations. Avoid getting defensive or confrontational. It's hard but necessary; to focus on the issues rather than personal attacks.
Next, express your viewpoint: Once you have heard all perspectives, express your viewpoint or concerns clearly and respectfully. Articulate the impact of the situation or conflict on the team or project. Offer specific examples to support your points. Seek common ground: Look for areas of agreement or common ground among the different viewpoints. Explore potential solutions together and encourage collaboration. Address issues directly: Be direct and address the specific issues or behaviors causing the conflict. Encourage open dialogue and problem-solving rather than finger-pointing or blame.
Finally, document and follow-up: This one is the most important, and I have not been the best at this.  After the conversation, document the key points discussed, agreements reached, and any action items identified. Share a summary with the team members involved to ensure clarity and accountability. Follow up on the agreed-upon actions to monitor progress and address any remaining issues.
MS: Have you ever had an identity crisis, and how did that affect your work?
ZB: Of course, I have, and it has affected me emotionally, and physically, and my work has also been affected. But as the years have passed, I have learned to cope, and this is  how: Take time to engage in self-reflection and exploration to better understand oneself, values, passions, and goals. This can involve journaling, seeking therapy or counseling, or conversing with trusted mentors or friends. Next, reach out to trusted individuals who can help guide you, support you, and provide a listening ear. Embrace opportunities to explore different roles, projects, or industries that align with personal interests. Invest in personal growth and development through learning, skill-building, and pursuing activities that bring fulfillment. And finally and most importantly, strive to bring your authentic self to your work. Align your actions, values, and choices with your true identity and purpose. This can contribute to greater fulfillment and satisfaction in your professional life. Remember, identity crises are part of personal experiences, and it's okay to struggle through the process, but you will always come out of it successfully. Just believe in yourself. 
Congrats to all the women who made this list!
Main Image Photo Credit: Neerja PR
Author
Mrinalini Sundar (new_girl_in_to) has worked with various Indian national, international publications including Times Of India and is currently based out of Toronto. She's constantly in search of high adventure, exotic food, and new experiences. She is the happiest amidst mountains, with no wi-fi.