Work Life /
Tech Gadgets Comparison: The Lenovo Ideapad Miix 300 Versus the HP Pro Tablet 608 G1
Tech Gadgets Comparison: The Lenovo Ideapad Miix 300 Versus the HP Pro Tablet 608 G1
Work Life Jul 20, 2015
Both of these tablets will be released this month and below is a comparative look at the various features of each tablet:
The Gadgets:
Lenovo Ideapad Miix 300

Externally, the tablet has a standard size of 360 g and a relative thinness of 9.3 mm. The length is 130 mm and the width is 215 mm. The screen size is 8 inches and incudes impressive features like WUXGA IPS display, and a resolution of 1280 x 800 pixels. Reviews in India have commended the tablet's affordable price of $149 or an estimated RS 10,000. Other reviews have praised the tablet's inclusion of free access to Office 365 for one year. Plus, the tablet's small size and long battery life, definitely make it convenient for on the go use. Additional features include micro SD storage, an Intel® Atom™ processor and Bluetooth v 4.00. Lastly, the tablet comes equipped with various sensors like a proximity sensor, accelerometer and ambient light sensor.
HP Pro Tablet 608 G1

This tablet is considerably more expensive than the Lenovo tablet, with a price of $479. This additional cost has caused some reviewers to doubt the HP tablet's affordability. The Lenovo tablet has the same 8-inch screen size, but is much cheaper. The HP Pro Tablet 608 G1 weighs 362 grams and has a length of 8.1 inches and a width of 5.4 inches. Positive reviews have highlighted that the resolution of 2,048 x 1,536 pixels is impressive, because this facilitates an extremely sharp display that is above average with regards to typical tablet resolution standards. Additional features include GPS Navigation, HD Playback and a Graphics Accelerator. The Intel Atom X5-Z8500 processor has also been regarded as impressive, due to its high speed, which will facilitate a user's multitasking needs. Plus, the tablet also includes micro SD storage, an accelerometer, a digital compass and a gyroscope.

The Features: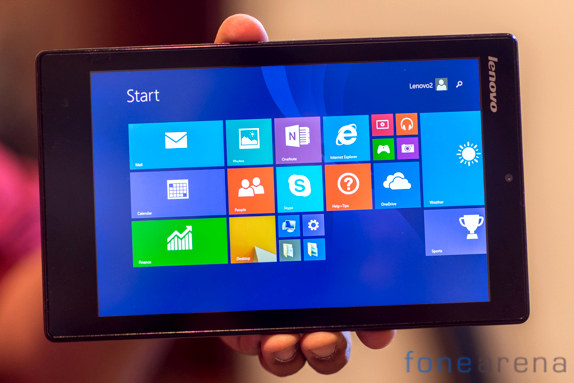 The Results:
If you're looking for something affordable and efficient, it appears that the Lenovo Ideapad Miix 300 is the better choice. This tablet has many features that are equivalent to The HP Pro Tablet 608 G1, such as the same amount of RAM, the micro SD storage option and an 8-inch screen size. It even has internal storage that is double the amount of the HP tablet. On the other hand, the HP Pro Tablet 608 has some more advanced features such as the Intel Atom X5-Z8500 processor, an extra hour of battery life, a Graphics Accelerator, a digital compass and a gyroscope. Therefore, if cost is not a deciding factor, the HP Pro Tablet 608 is a better choice.
Photography courtesy of retailers
Author
Maresah (@sah_mare) our guest tech expert is a University of Toronto graduate with a double major in Political Science and English. She has an ever-present passion for journalism and she loves staying updated on all things tech. Maresah also loves karate, reading, running and sight-seeing. Check her...