Issue 42 /
CBC's Canada Reads 2016: Our Focus On Saleema Nawaz's Bone and Bread
CBC's Canada Reads 2016: Our Focus On Saleema Nawaz's Bone and Bread
Mar 21, 2016
In time for CBC's annual book debate show, Canada Reads 2016, we focus on Bone and Bread and why that should be on your bookshelf right now.
"I'm Indian in background, African born and raised in Canada. This book takes you through that narrative of being from somewhere else and living in Canada. And dealing with all the customs and traditions that surround those who are from South Eastern Asian descent." ~ Farah Mohamed
CBC's annual Canada Reads debate kicked off this week from March 21 to 24. Every year, five celebrity panelists defend a title from a shortlist of books. Entering the ring this year are Adam "Edge" Copeland defending Minister Without Portfolio by Michael Winter, Farah Mohamed defending Bone and Bread by Saleema Nawaz, Vinay Virmani with The Hero's Walk by Anita Rau Badami, Clara Hughes supporting The Illegal by Lawrence Hill and Bruce Poon Tip defending Birdie by Tracey Lindberg.
This year's theme is about starting over and second chances. Hosted by author Wab Kinew, the debate will take place over four days and each day one book will be eliminated until a winner is crowned. Each of the shortlisted books are fictionalized accounts of migrants and immigrants. This is a theme being championed by the film industry as well. Case in point, Brooklyn, which depicted a beautifully crafted migrant story.
CBC's Canada Reads 2016 focuses on the theme of starting over.
Photo Credit: www.cbc.ca
This week's profile sheds light on award-winning activist Farah Mohamed and the author of her chosen book Bone and Bread, Saleema Nawaz. Mohamed is the founder and CEO of G(irls)20, an enterprise that promotes educational empowerment for young girls and women. The Ugandan-born political advisor is a Burlington native and worked with Canada's most senior politicians for over 10 years before heading over to VON Canada where she served as vice president of public affairs and community engagement. She garnered successful partnerships and was vital in taking Canada's largest non-profit organization to new levels.
She has been listed on BBC's 100 Women as well as named in Top 25 Women of Influence in Canada by Women of Influence. She was also among RBC's Top 25 Canadian Immigrant of the Year in 2014.
When asked why she chose Bone and Bread from the shortlist, she said, "I was looking for a book that, firstly, Canada can read. If you think about the concept of Canada Reads, it's to get more Canadians knowing about Canadian authors. I thought this book encompassed a lot of things. Firstly, it's about relationships, life, death and despair. It's an amazingly well-written book and takes places in a city not a lot of people focus on in terms of books, Ottawa and Montreal. And it's an easy read. You don't have to have a sister or even like bagels. You just have to like to read."
Bone and Bread (House of Anansi) follows sisters Beena and Sadhana who had a bond that grew stronger as they got older, a testament of their unusual childhood. Orphaned as young girls, they were taken under the care of their Sikh uncle who owned a shop in Montreal's Hasidic community of Mile End. The book unravels each sister's journey as they battled challenges of their own. While Beena finds herself pregnant at 16 and has to deal with being a teen mom, Sadhana fights anorexia.
Farah Mohamed and her favourite book, Bone and Bread
Photo Credit: www.cbc.ca
Fast forward 16 years later and Beena is grieving over the sudden and strange death of her sister. Trying to process this grief while uncovering the reasons behind her sister's death, Beena has to dig into their past and face old wounds and memories, hoping this doesn't disrupt the safe haven she created with her son.
The book deals with grief and loss, relationships and love. I can see why Mohamed chose to defend this book, which tugs at your heart strings as sisterhood and dealing with loss is at play. It's an emotional ride and when we asked Mohamed what experience in her life gave her a personal connection to this year's theme of starting over, she said: "My story isn't unlike a lot of Canadians. I came here as a refugee with my parents from Africa. When I think about the theme of starting over I think of it in terms of my parents. When they left Uganda they were in their 20s. They had to start over a brand new life. Then I think about my own life and not in a dramatic way, but you start over every time you start anew. I have two different degrees. Lived in two different cities, worked in politics, left politics and then started over a career in the social profit world. I've got a little touch of that theme. But I think anybody can relate, whether it's relationships or jobs."

When I asked her how she related to the subject matter and themes in the book, she said, "I have a sister and if you read the book it's about the emotionality between sisters. You love them intensely, you feel al their pain and sometimes you cause them pain. I think this book captures that. Also, I'm Indian in background, African born and raised in Canada. This book takes you through that narrative of being from somewhere else and living in Canada. And dealing with all the customs and traditions that surround those who are from South Eastern Asian descent. Culturally I related to it, having a sister I related to it and being from Ottawa I related to it. Where I'm very thankful I did not relate to it is my parents are both alive."
Author Saleema Nawaz (left) with Farah Mohamed.
Photo Credit: www.cbc.ca

Bone and Bread is Nawaz's first novel but she has also penned a collection of short stories titled Mother Superior that won her the Writers' Trust/McClelland & Stewart Journey Prize. The Ottawa-born author, who currently lives in Montreal, has had her work published in note-worthy publications including Dalhousie Review. Bone and Bread has already impressed readers. In 2013, the book was awarded the Quebec Writers' Federation Paragraphe Hugh MacLennan Prize.
Mohamed is all for praising Nawaz's style of writing. She explains: "I would say it's really nicely written. This is Nawaz's first novel and you can feel the emotionality of the novel. You can connect to it. Secondly, is the way she develops the characters. Often, in a book you walk away and you not always want more of that character. In this she built such an amazing narrative that you feel like you got to know the character and want to know what's next for that character. I think character development is really important. The third thing she does really brilliantly is that she is able to bring to life the theme that you think she'd almost written the book with a theme in mind. And I love that! I have a lot to win this for her. She's given me the tools I need to win this for her."
Main Image Photo Credit: www.cbc.ca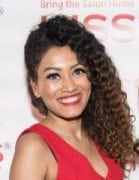 Author
Marriska (@marriska.fernandes) is an entertainment expert who has been creating celebrity, movies and pop culture content for digital outlets for over ten years. From reporting headline-grabbing celebrity news to reviewing movies to interviewing Hollywood and Bollywood's finest actors and industry...
Newsletter Sign Up
Subscribe to our FREE newsletter for all of the latest news, articles, and videos delivered directly to your inbox each day!