/
Lakmé Fashion Week Fall/Winter 2017 Trend Report
Lakmé Fashion Week Fall/Winter 2017 Trend Report
Oct 02, 2017
Lakmé Fashion Week Fall/Winter 2017 took place late August in Mumbai to dictate the trends that we will be religiously following over the coming months. From a flurry of floral motifs to crafty jackets to mesh detailing, designers resorted to simple cuts and avant-garde styles.
Here are some of the top trends that were seen on the runway during the five days of glamor.
Cape Me Away
With all talk of superheroes dominating the big screen lately, it's not a surprise that capes have once again taken over the runway. From cape saris to cape gowns and dresses, this was a huge trend on the runway. Faabiiana juxtaposed capes with traditional saris and it was a hit. Manish Malhotra added capes to free-flowing chic gowns for a spectacular look. Hardika Gulati's avant-garde cape was presented with a mini-dress and caped sleeves, certainly pushing envelopes and making waves with this number. Masaba Gupta, known for her vibrant and colourful collections, had a patchwork dhoti with a bow tie top and printed cape, which was an eye-catching number.
Flirty Florals

"Florals? For Spring? Groundbreaking." Now Miranda Priestly might have dismissed florals for spring but a fall/winter floral trend would get her approval. Designers have been loving the floral motifs, embracing it in patterns across traditional lehengas and cholis as well as figure-hugging gowns. Manish Malhotra infused florals in his collection including a sheer embroidered gown that was worn by showstopper Jacqueline Fernandez. Our favourite from Arpita Mehta's collection was a floral embroidered deep navy lehenga and bralette worn by Kriti Sanon that was simply stunning. We also loved the soft look worn by Sharaddha Kapoor for Rahul Mishra. The floral-adorned lehenga, choli and duppata was a stand-out piece from the collection.
Ball Gown Glamour
Manish Malhotra, Shriya Som, De Belle and Falguni and Shane Peacock are just some of the designers who infused fairy tale-inspired ball gowns into their collection. Diana Penty wore a breathtaking structured lace ballroom gown in ivory for Shriya Som while Preity Zinta wore an off-shoulder floor-length gown that made her look like royalty at the Falguni and Shane Peacock show.
Jacket Gems
Fall and winter brings a flurry of stylish jacket ensembles. Several designers incorporated luxe jackets on the runway. Nikita Mhaisalkar complemented her thigh-high slit sexy owns with jackets for a knock-out look. She added this style to several ensembles, including a silver number worn by Kalki Koechlin. Sonaakshi Raaj also showcased floor-length jacket gems that look like gowns at first glance.
Mad for Mesh
After the naked dress phenomenon, mesh fabrics have once again returned to take over the runways, be it in maxi dresses or traditional ethnic pieces. Many of Manish Malhotra's pieces boast mesh patterns incorporated in floor-length dresses. Even Falguni and Shane Peacock and Faabiiana are among the designers who sported mesh fabrics.
Ravishing Reds
A hot colour seen on the runway was the powerful and ravishing red. Designers were in love with the sexy colour and splashed it unapologetically on the runway. The festive colour was seen at Falguni and Shane Peacock's lineup as Vaani Kapoor stunned in a jaw-dropping lehenga with a plunging neckline choli. Taapsee Pannu also wore a gorgeous floor-length red jacket for Divya Reddy. Many brides who go for red can get some inspiration from these designers.
Retro Trend

Fur, tassels and fringe were also a peppy number on the runway as designers floored their collections with these eye-catching trends. From Manish Malhotra to Shriya Som, top-notch designers made sure to pay homage to the '80s trend that we will be seeing a lot of this year. The major trend in ace Bollywood designer Manish Malhotra's collection was fur, tassels and mesh.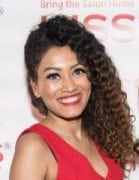 Author
Marriska (@marriska.fernandes) is an entertainment expert who has been creating celebrity, movies and pop culture content for digital outlets for over five years. From reporting headline-grabbing celebrity news to reviewing movies to interviewing Hollywood and Bollywood's finest actors and industr...
Newsletter Sign Up
Subscribe to our FREE newsletter for all of the latest news, articles, and videos delivered directly to your inbox each day!