Issue 58 /
Revenge, Attitude, Liberation & Tradition With Pop Artist Hatecopy
Revenge, Attitude, Liberation & Tradition With Pop Artist Hatecopy
Jul 28, 2016

Pakistani-Canadian pop artist Hatecopy turns global South Asian ideals and perspectives upside down and inside out. The artist behind the brand, Maria Qamar, speaks up about her art, inspirations and being South Asian.
Art. We admire it. We revel in it. Some of us create it. Some of us sell it. And some of us live and breathe it. Artist Maria Qamar, the young Pakistani-Canadian woman behind popular online art brand Hatecopy, is one of the artists who just live and breathe the art she creates. Not because it's a passion, but simply because it's who she is.
Like most art, Qamar's work under Hatecopy is filled with meaning often pointed at the traditional and conservative views and lifestyle of her South Asian culture and upbringing. "Our culture is still deeply rooted in patriarchy. I feel like I'm challenging it simply by existing as a woman," Qamar says to ANOKHI. In fact, her art is so natural to her that Qamar cannot help but challenge cultural ideals, without even trying. "I don't try to challenge anything; I try to communicate parts of my life and the lives of other people, including women," Qamar continues.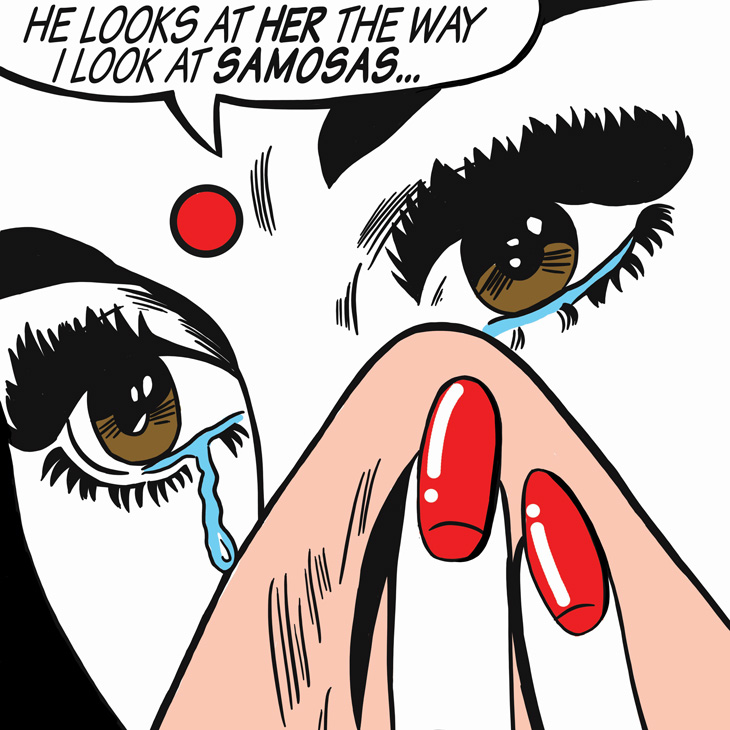 Illustration by Hatecopy.
Photo Credit: www.hatecopy.com
But while still being known widely in the online space for her work, and growing her physical artistic presence around the world, Qamar's work, as natural as it may be for her, is still considered a thing, something unconventional and an artist like her is considered bold and daring. "If this is considered to be challenging for South Asian culture then maybe it's time we work to broaden our way of thinking for the sake of it," she says. But this very sentiment from Qamar is what has helped her resonate with so many South Asians across the world. Ask her about her popularity and she quips, "up until recently I thought I was the only person who felt this way (refering to her life experiences and situations in her work). Seems like some of the situations in my life are too common within the diaspora."
Illustration by Hatecopy.
Photo Credit: www.hatecopy.com
And this disapora that Qamar refers to is the very group, or groups rather, of South Asians around the world who identify with her world. Somehow, through her own life experience and her willingness to portray it in her art, Qamar has helped give voice to many South Asian struggling with their culture and their individual identities. The intergenerational conflicts in the South Asian diasporas internationally have been beautifully portrayed in Qamar's art work under Hatecopy. From the issues of marriage and beauty ideals to femininity, homosexuality and the judgemental Aunty brigade, Qamar critiques it all.
"Humour, colour, nostalgia, revenge. I insert parts of my personality into each piece so they are always some form of tragedy wrapped in humour. The humour is communicated through colour and language, as well as the expressions on each character. A lot of the themes are revenge based because the work is my way of seeking it from our oppressors," says Qamar.
Illustration by Hatecopy.
Photo Credit: www.hatecopy.com
Though her work has such a poignant and important impact on the online world of South Asian pop-culture, what does Qamar think of her work? To her, its all about having a connection with the person consuming and experiencing it. "I just want a genuine relationship between my work and the viewer. Most of the time the viewer begins to share their own stories related to the piece and it's super rewarding to be able to lean in and listen to that conversation," she says to ANOKHI.
"On me, the impact of creating each piece is liberating. I'm free to do/say/act how I'd like on canvas!"
And like a canvas she is.
Main Image Photo Credit: Brian B. Bettencourt / The Toronto Star
Author
Daniel is the Digital Media Manager for ANOKHI MEDIA and the host for ANOKHI's entertainment channel, PULSE TV. As part of the dream team, Daniel manages all multiple channels under ANOKHI's portfolio, while also training new on-air talent, and showing budding p...
Newsletter Sign Up
Subscribe to our FREE newsletter for all of the latest news, articles, and videos delivered directly to your inbox each day!