Issue 58 /
Lead Star of "Bazodee" Natalie Perera Opens Up About Love & Carribbean Culture
Lead Star of "Bazodee" Natalie Perera Opens Up About Love & Carribbean Culture
Jul 22, 2016

Bazodee is gearing up for release on August 5th and promises a whole lot of Bollywood flavour with a caribbean twist! Find out why this film is so magical from lead actress Natalie Perera herself.
Wedding season is here and it's time for something new! Veteran Bollywood actor Kabir Bedi, international music superstar Machel Montano and acclaimed actress Natalie Perera star in the groundbreaking film Bazodee, a new style Bollywood musical with a distinctly Caribbean island flavor. Opening in theaters on August 5, the film is set on the vivid, colorful islands of Trinidad and Tobago and pulsing with the sensuous dance rhythms of soca music.
You might be wondering what Bazodee, the word itself, means? Baz'oh'dee (Adj. Trinidadian slang) refers to a state of dizziness or confusion, often used with regards to love or infatuation. This could sum up everything we think Bollywood movies are both past and present, but when it comes to Bazodee, Natalie Perera feels its got much more to do with what we know and recognize already when it comes to love stories.

Bazodee Trailer (2016)
Video Credit: YouTube – Movie Trailers
"I feel extremely priveledged to be a part of a project, something so rare and precious. I think its really important that people who are not exposed to or given a chance to experience and witness the Indian heritage know that there are Indians in all different kinds of places in the world," Natalie Perera, the film's lead actress, said to ANOKHI.
It's clear that we're witnessing a Romeo and Juliet-like love story. We have a native Trinidadian falling in love with an Indo-Caribbean and the two families are involved, and there's some colour and music thrown in as well. But, the idea of the diaspora seems to be embued in every inch of the film's trailer for those who take a moment to look a litte closer. And for Perera, shooting for Bazodee was an excerise in getting to know the people of the South Asian diaspora.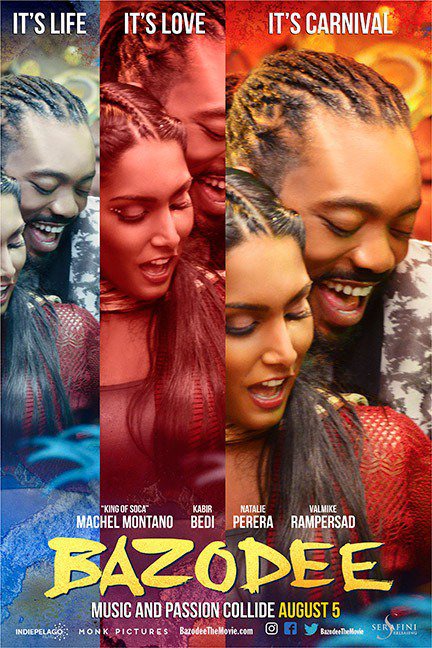 Bazodee (2016) Movie Poster.
Photo Credit: www.bazodeethemovie.com
"It was more a realization of people. I was raised a christian (born and raised in the UK and of Sri Lankan heritage) which is rare for many Indians. So I was different than other Indian friends. I have always known that our culture was vast and varied, but the most magical feeling that I experienced while shooting was specific to Trinidad," revealed Perera.
"People celebrate each other's religious festivals regardless of their own religion in Trinidad. You'll have christians celebrating Diwali and muslims celebrating Christimas and Hindu's celebrating eid, and I never had this experience before. This feeling of unity was really a moment where I had to stand back and take it all in," Perera said to ANOKHI. "This is what it was like to be here in this Indo-Caribbean culture," she continues.


Still from Bazodee.
Photo Credit: www.bazodeethemovie.com
But aside from its obvious elements of being a love story, the music is the point of difference in this film that sets it apart from films that most Bollywood cinegoers are probably used to. "The music is that difference in heritage that you can see in this film that most Bollywood film lovers are probably not used to. You don't hear soca music in a Bollywood film," says Perera.
"The biggest thing is the music and food, you must experience both when you're getting involved or learning about any culture. In Bazodee, we have both. All the cultures and religions that I mentioned earlier are celebrated by everyone in Trinidad, and in that unity comes a new culture," she continues.
Still from Bazodee.
Photo Credit: www.bazodeethemovie.com
But with all this cultural exposure and experience Perera must have come out a better actor? "I went in with the expectation of telling love story, and I came out having told one. But, I've also learned that I can sing and that I am a singer. I've learned about a whole new culture. It set me free to be in Trindad for a while, cause its a free culture. I was open and flamboyant and exposed," Perera said to
ANOKHI
.
"When you feel free, creativity just flows through you and there's nothing being trapped. Trinidad made me free and I will take that with me forever."
Featured Image Credit: www.bazodeethemovie.com
Author
Daniel is the Digital Media Manager for ANOKHI MEDIA and the host for ANOKHI's entertainment channel, PULSE TV. As part of the dream team, Daniel manages all multiple channels under ANOKHI's portfolio, while also training new on-air talent, and showing budding p...
Newsletter Sign Up
Subscribe to our FREE newsletter for all of the latest news, articles, and videos delivered directly to your inbox each day!