Issue 70 /
Lakmé Fashion Week Spring/Summer/Resort 2017 Trend Report
Lakmé Fashion Week Spring/Summer/Resort 2017 Trend Report
Mar 06, 2017
Spring trends were off to a fresh start. From fresh floral prints to off-the-shoulder ensembles, Lakmé Fashion Week Spring/Summer/Resort 2017 was buzzing with hot trends.
Lakmé Fashion Week took centre stage in Mumbai as they showcased spring and summer trends at their Summer/Resort 2017 collection. Over five days, 90 designers across India unveiled their range of haute couture.
The show was dominated with metallic prints and floral appliques as we noted major trends that will dictate the season's must-haves. Celebrities such as Karisma Kapoor, Kareena Kapoor Khan, Bipasha Basu and Malaika Arora-Khan walked the runway and left the audience in awe. Here are some of the trends that were a hit in our books.
Plunging Necklines
After this year's award season, it's clear that plunging necklines are a celeb favourite and from the looks of this runway show, the hot trend is not going away anytime soon. Falguni Shane Peacock's showstopping Bipasha Basu wore a stunning silver embellished gown with a plunging neckline that complemented her figure. Amit GT's couture was also peppered with gowns boasting daring plunging necklines that gave a chic and sexy vibe. If you got the assets, flaunt away.
Bralettes
If you thought bralettes were a thing of the past, think again. Replacing the choli was the bralette this season. Malaika Arora-Khan set the ramp on fire as she sashayed for Divya Reddy in an orange choli a la bralette and a pale yellow lehanga. Urvashi Rautela also sported a navy bralette as she walked the runway for Sonal Verma. Take it from me, this midriff-baring number isn't going away anytime soon and it's a welcomed twist to the Indian outfit.
Floral Fever
Floral prints are a cliche yet necessary fashion statement in spring and summer. Anushree Reddy's collection was flowing with fresh floral appliques and whimsical patterns that made us wish it were spring already. Jayanti Reddy also showcased a peppy floral number with prints embroidered on a navy blue lehenga worn by Disha Patani. Amit GT infused floral 3D patterns into his modern gowns giving them a fresh luxe vibe.
Liquid Gold
Liquid gold was a very popular trend on the runway this season. White and gold combinations strike the perfect balance for a summer wedding. Anita Dongre's Alchemy collection glazed in gold. Kareena Kapoor Khan wore a silk organza gown and a gold floor-length jacket, keeping the new mom's glow intact. Gaurang Shah's collection also had a strong white and gold theme. Tarun Tahiliani flirted with neutral white and hints of gold in his collection.
Off-shoulder Ensembles
One of my favourite summer trends was shining on the runway as off-shoulder outfits strolled into the limelight. While Jayanti Reddy boasted a navy blue off-shoulder choli over a lehenga, Tarun Tahiliani played with an off-white cape that perched on the model's shoulder. My favourite was the crimson red off-shoulder choli worn by Nimrat Kaur at Sonam and Paras Modi's show.
Fringe Benefits
It's never too late to go retro. Fringed options were hot and happening on the runway, adding a nod to sultry '70s silhouettes. Karisma Kapoor donned Arpita Mehta's outfit that sashayed fringe details on the choli. Amit GT and Tarun Tahiliani also played with fringed ensembles, shimmering you back to the disco days.
Main Image Photo Credit: Lakmé Fashion Week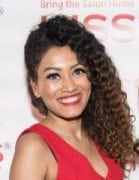 Author
Marriska (@marriska.fernandes) is an entertainment expert who has been creating celebrity, movies and pop culture content for digital outlets for over ten years. From reporting headline-grabbing celebrity news to reviewing movies to interviewing Hollywood and Bollywood's finest actors and industry...
Newsletter Sign Up
Subscribe to our FREE newsletter for all of the latest news, articles, and videos delivered directly to your inbox each day!