Issue 69 /
Producers Fight For Human Rights With The White House And UN Collabs
Producers Fight For Human Rights With The White House And UN Collabs
Feb 17, 2017
Producers launch "Music To Inspire,"  a unique musical collaboration with the White House and the United Nations geared towards fighting for human rights. 
A mastermind mogul and a dynamic activist. Two South Asians in the music biz came together to start a movement for human rights and now all we hear is applause and the sound of unity, echoing the Music To Inspire series.
Los Angeles-based record producer and founder of Rukus Avenue, Sammy Chand, launched two new projects to address bullying and human trafficking as part of the Music To Inspire series. Co-produced by columnist, activist and TV host Raoul Juneja, The Act to Change music movement geared towards fighting for human rights was born through a collaboration with the White House and features some of the finest Asian American artists. This anti-bullying album of the same name launched in December of last year and featured former President Barack Obama and former First Lady Michelle Obama as the opening audio piece.
The duo then continued their work for human rights and worked on launching their next album Artists UNited Against Human Trafficking, in partnership with United Nations Voluntary Trust Fund for Victims. In collaboration with over 60 artists around the world, a united statement was made against all forms of slavery. Some of the artists include A.R. Rahman, Sonu Nigam, Karl Wolf and Anoushka Shankar.
Raoul Juneja, who co-produced both of the albums, is very proud of the collaborations. "It's been quite an honour working with Sammy Chand on our Act To Change and Artists UNited Against Human Trafficking albums as part of Rukus Avenue's Music To Inspire series!" Juneja explained. "From discovering so many incredible Asian American artists on the former or having some of the world's biggest musicians lend their support on the latter, these projects are a testament to the great humanitarian impact that the arts can make when people within our creative industries work together."
Ruby Ibarra, who collaborated on original songs composed by Sammy Chand on both projects, noted, "being part of the White House and United Nations projects were such tremendous opportunities for me as an artist, but most importantly, were significant for me due to the fact that they were both aiming to promote positive causes that I feel strongly about. I think it is important to use music as a platform to highlight issues that otherwise don't get discussed in the mainstream sphere. I was particularly happy with how both of the projects turned out; they were filled with such diverse music, yet all equally empowering lyrics and voices."
Salvador Santana, son of music legend Carlos Santana, contributed an original track for the United Nations album and wrote a rap verse on Act To Change. He said, "It's an honour to collaborate with the artists and dope MCs who are involved in these incredible causes. Whether we're talking about bullying and social justice in 'Act To Change' or our strength is in numbers in 'Weapons Of Mass Compassion,' we're using our voices and art to express what's really going on right now. It's up to each and every one of us to be the change that we want to see in this world."
Saum G, who wrote an original song called "Not For Sale" composed by Sammy Chand for the United Nations album, shared: "'Not For Sale' came to me after I watched the SOLD (the human trafficking film starring Gillian Anderson) and Mr. Sammy Chand asked me to create a song about the struggle. I was thinking this was so obvious of a moral announcement of sorts, that a human being should not be sold. Humans are NOT for sale. Throughout creating the layers of tracks and melodies this was consistently prevalent during the time I worked on the song. The lyrics represent a deep feeling that we tried to expose from what a victim or affected person may feel."
Varshini Muralikrishnan, who sang on Saum G's song "Not For Sale" added, "As soon as Anchal Chand contacted me regarding this wonderful initiative, I was beyond ecstatic to share my passion for music and love for humanity. Being both a medical doctor and musician, this was the ultimate realization of intertwining my two passions. I was leaving the country the next day for a project, but something deep within me moved me to make the drive to the studio where I met up with Sammy and Saum G. We instantaneously clicked on the music and purpose of the track 'Not For Sale' and started brainstorming ideas. It was truly a magical experience in the studio and we finished the song in a few hours. I think it was fate that I happened to be back in the country during the album release. When Sammy asked me if I could perform the track at the United Nations for the album release, I was so moved and literally in tears that our track would be received by people who believe and fight for this cause on a daily basis. It was such a soul stirring experience and hopefully the beginning of many more such projects. I felt blessed to have shared such a prestigious stage with Saum G. and my brother Basanth Muralikrishnan."
With strong praise and admiration for Sammy Chand, the producer and brains behind the albums sat down to discuss the movements that created a musical buzz.
Marriska Fernandes: Can you tell us about how you got involved with Act to Change and how it came to be?
Sammy Chand: The rise of bullying in our community was brought to my attention by the White House and by specifically my good friend Maulik Pancholy, who sat on President Obama's Advisory Commission on Asian American and Pacific Islanders.  I was invited to a White House event that really shined a light on bullying and I was absolutely stunned by how prevalent the issue was.
My natural instinct was to lend my resources and my wheelhouse to the cause and try to make a difference.  Later in the year, the idea came up to put an album together that would unite the music community and other great voices to bring awareness to the issue.  We're really proud of the 25 track album we put together in just 35 days.
MF: The album was launched after the recent American elections. Does the timing make the message of this album more relevant?
SC: The process began before the election, but the results certainly did have a big impact. There was certainly a sentiment after the elections that seemingly alienated the AAPI community in the U.S., so the album really grew in amplification.  Many turned to the album to seek emotional support, but the message of hope and optimism definitely spilled over from this album beyond just bullying.
MF: What did you hope to accomplish with the Act to Change album?
SC: The biggest thing I sought out to achieve was to let the kids that get bullied know that there is someone cares. That President Obama and Michelle Obama, the Surgeon General, and all the other great people that lent themselves to this project care. The reason this album is there is because this is happening to other children in our community and that their favourite artists are collectively there for them.
MF: As part of the Music To Inspire series, you produced a new album created in partnership with the United Nations Voluntary Trust Fund to be released this month. It's a pretty big and important collaboration. How did this initiative come about?
SC: My involvement with the film SOLD, which is a story about human trafficking, was my turning point. I was the composer and music supervisor on the film and I was invited to the United Nations to engage in a discussion about how the arts can make a difference. Naturally, as a music man, this was my tool, however, I'm more grateful to all the artists that have forgone any financial gain in order to make an impact here.
MF: What is the goal of Artists UNited Against Human Trafficking?
SC: The goal is to bring awareness to this worldwide problem, but the direct goal of this album is to raise money for the United Nations Voluntary Trust Fund for their direct initiatives against human trafficking. We believe the music community has done its job to bring this cause to the forefront, the burden now rests on the rest of us with platforms to spread the awareness.
MF: Tell us about the artists featured in this album. How did they come on board?
SC: We've been really proud of the great group of artists that have stepped up to join our fight. Our platform begins with their voices and I think our appeal to them was basic. We needed their voice to help us amplify this message. The stories of how we navigated through the legal mine fields was our biggest challenge. All of the artists had very unique circumstances around their work and we had to sift through all of that. All of the artists featured on here had to represent a certain social association worthy of representing this cause.
MF: What are you hoping to accomplish with the production of the Music To Inspire movement?
SC: The Music To Inspire series is our way of making a difference. A concrete way of integrating the music community in being a catalyst for social change and I think this is something that will only grow as time goes on. Artists have always been agents of change, but now they have their own platforms to utilize.
MF: What's next for you?
SC: We'll be focused on some of our Rukus Avenue repertoire including our work with artists like Bappi Lahiri, Panjabi MC and Satinder Sartaaj. We'll be releasing the soundtrack to Satinder Sartaaj's new film The Black Prince on April 28, along with some other great works coming in 2017. This will be certainly be our most active year to date with some great announcements coming shortly.
With these two musical projects, fighting for human rights has definitely taken a tone worth hearing.
Main Image Photo Credit: Rukus Avenue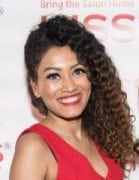 Author
Marriska (@marriska.fernandes) is an entertainment expert who has been creating celebrity, movies and pop culture content for digital outlets for over ten years. From reporting headline-grabbing celebrity news to reviewing movies to interviewing Hollywood and Bollywood's finest actors and industry...
Newsletter Sign Up
Subscribe to our FREE newsletter for all of the latest news, articles, and videos delivered directly to your inbox each day!