Issue 12 /
The Coolest Fall Fragrances For Your Shopping List
The Coolest Fall Fragrances For Your Shopping List
Aug 24, 2015
Here are some fab fall scents for you to fall in love with.
The crispy fall climate brings sweet and dapper fragrances to the table. A fresh, floral or crisp scent is the perfect complement to your autumn outfit. Sandalwood, cedar musk, rose, peony, cherry blossom, amber and jasmine are just some of the notes delivered by the hottest fragrances this season. We have rounded up some of our favourite fall-friendly, irresistible scents.

Priyanka Chopra told Vogue Magazine that Romance by Ralph Lauren ($100 US) is one of her all-time favourite fragrances. This Ralph Lauren perfume is laced with layers of wood, fresh florals and seductive musk. Playing host to intense and spicy notes, this perfume gets a thumbs-up.
This fairytale-inspired fragrance that enchants every woman comes straight from Nina Ricci's Les Delices de Nina ($85 CDN). Strawberry candy creation is fresh and fruity with a whisk of mandarin, lemon, strawberry and caramel. Whether you have a sweet tooth or not, this delicious scent will make it a sweet season.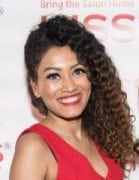 Author
Marriska (@marriska.fernandes) is an entertainment expert who has been creating celebrity, movies and pop culture content for digital outlets for over ten years. From reporting headline-grabbing celebrity news to reviewing movies to interviewing Hollywood and Bollywood's finest actors and industry...
Newsletter Sign Up
Subscribe to our FREE newsletter for all of the latest news, articles, and videos delivered directly to your inbox each day!